"Clash of the Decades" 80's Vs 90's tribute interview with Greg Marsh, The New Romance Band.
"Clash of the Decades" 80's Vs 90's tribute featuring Here's To The Night and The New Romance, appearing Live at Tally Ho Theatre, Leesburg, Virginia, 3/26
The New Romance cranks out an incredible nonstop high-energy show that will leave you breathless. We'll talk to Greg Marsh, keyboardist from the band, The New Romance, who will tell us all about the upcoming Clash of the Decades concert. According to Greg, you'll know every song, and at the show we'll dance for hours and sing at the top of our lungs.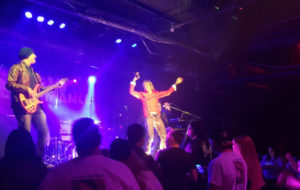 Think of it as your favorite mix tape of the 80's coming to life! Since their inception, The New Romance have focused on playing the songs you know and love with stunning accuracy. Together, they'll bring a wealth of music and entertainment industry experience to the Tally Ho Theatre, and have brought their concert style performance to audiences across the United States. Always in high demand, if you're looking for a band to entertain a you and leave you wanting more, look no further. So, grab your friends and join The Ultimate 80's Tribute Band "The New Romance"! See You On The Dance Floor at the Tally Ho! Saturday, 3/26, 8PM. Tickets for the show are available here: Tally Ho Theatre
Clash of the Decades!
Check it out, please subscribe & enjoy! Please tells us what you think! Join us and offer your reviews and comments.