Our Story
There are 74 MM of us over age 55 individuals in North America. We have many stories to tell, and my own is not even that unique, but it is mine, and it's shaped me, bringing me to this place in time, as host of The Not Old Better Show.
I refer to this as "hitting the restart button."
I'm the first to admit that it's damned hard to start over at any time in life and it gets harder as we get older. But my life, as well as yours, is one big story with many chapters. I realized that if you don't start over, then you cling on to the ending of your last chapter and you never know what could've happened next. That almost happened to me.
For over 20 years, I worked with many great organizations in varied capacities, all of which focused on creative ways to get attention, communicate and get results. That work, although I didn't know at the time, became known as "content marketing," and it combined my writing skills, public speaking, use of technology, online video, audio and social media. After leading first digital efforts for the Department of the Treasury, Tenet Health Care, Omnicom, Porter Novelli, Procter & Gamble, Warner Bros., and Disney, I founded and served as COO of KDCP Interactive in 2004 – the first company to offer branded entertainment to the "Mom" and family audience. KDCP produced, designed, developed, launched and managed the online communities of MommyCast and MommyCast Latina, for sponsor companies including State Farm, CIBA Pharmaceutical, Microsoft, America Online, A&E Networks, Disney, Focus Features, Ford Motor Co., Hallmark, iVillage, Kraft, Martha Stewart Living, MetLife, MTV, NFL, Showtime Networks, and VH1 among others.
In 2006, my company, KDCP became the first interactive company to be represented by William Morris/Endeavor Agency, and Believe Entertainment Group. KDCP also celebrated another first, as a technology platform for performing deep quantitative and qualitative consumer research across social media (social listening) for the mom demographic. KDCP delivered consumer insights based on women and "mom" online behavior and associated business and marketing strategies to a wide array of tier one brands including Aetna, America Online, American Express, Bristol-Myers Squibb, CVS, Dean Foods, DuPont, ElectronicArts, IBM, Kodak, Microsoft, Samsung, Sony, GM, WebMD, and others.
In 2010, MommyCast, nominated by sponsor partner Procter & Gamble's Pampers division, won the prestigious EFFIE Award, Media Innovation, Technology & Sales Quantification category. Based on P & G Pampers Business Goals and Equity Enhancement Goals, MommyCast and MommyCast Latina delivered "10.7 MM downloads to over 2MM unique moms, 38% of which are Gen Y moms, and incremental sales volume of over $4 MM, double the $2 MM going-in ROI." (Source: Dynamic Logic and P & G). The EFFIE Award, and EFFIE Worldwide, "champion the practice and practitioners of marketing effectiveness." The EFFIE Awards are nown by advertisers and agencies globally as the preeminent award in the industry, and recognize any and all forms of marketing communication that contribute to a brand's success through sales.
Fast forward to 2015…
2015 turned out to be a great year… to break down. Being laid off for the first time was traumatizing and resulted in depression.
I turned to writing and podcasting, an old friend, for help. me, it's not so much the actual podcast that's the key, but the act of creating, talking, and learning that's been the trick. Although many have explained how important it is to have an outlet for creativity and learning as we age because of how beneficial it can be for mental health.
Life brings challenges that can either get the best of you or become playthings for your imagination. When you "become the problem" and take yourself too seriously, it can be hard to think outside the box and find new solutions. But when you play with the problem, you can often transform it into an opportunity for creative learning.
Playing with problems seems to come naturally to children. When they are confused or afraid, they make their problems into a game, giving them a sense of control and an opportunity to experiment with new solutions. Interacting with others in playful ways helps you retain this creative ability.
As we age, we forget this…
The ability to laugh, play, and have fun with others not only makes life more enjoyable but also helps you solve problems, connect with others, and be more creative. People who incorporate humor and play into their daily lives find that it renews them and all of their relationships.
Regardless of our age, and most importantly to those 55+, is to recognize the value of creativity, learning and humor.
In my own way, I've learned anew that despite the depression, taking myself too seriously, and being around those who might take themselves too seriously, can affect attitude. I've had to understand that while people are wonderful in my circle, the creativity needed to produce a podcast and to write is largely a solitary approach. I focus now on having fun, talking to people I want to talk to because I have a passion for their "work product," their energy, and their passion! I've interviewed many celebrities, authors and others not as well known, but each gives me a boost, and I'm so pleased that anything I might do gives them a "boost." As I do these interviews, and do the writing associated with them, I've found I'm less critical of myself. This work, which isn't "work" at all, is enjoyable, just as I hoped it would be. My results, which are very public, are not "Oprah- like" but I'm getting there…And, with each step of this journey, my own brighter outlook generates better interviews, better writing, and better attitude. This has spread to all areas of my life.
I believe, now, that as laughter, humor, and play become an integrated part of my life, my creativity will flourish and new discoveries for meeting new friends, coworkers, acquaintances, and loved ones will occur to daily. This understanding has taken me to a higher place where I can now view the world from a more relaxed, positive, creative, joyful, and balanced perspective. It may be true for you, too.
Honestly, listening to music has been so uplifting, too. And, even for an "old dude," like me, I listen to "Lost Horizon," particularly "Heart of Storm!!!" Granted, it is metal. But, a lot of power metal is empowering, and about selfactualization. It reminds you that you are in control of yourself. No matter the circumstances, you always have the power! There are challenges, still, in my life, and there always will be challenges.
That's my story to date. I hope it helps to learn this about me and what I'm doing now, moving forward, with you, and The Not Old Better Show.
But, our listeners can tell you about us, too, and their stories are even more compelling…read on…
NextMarket Podcast
❝ Guest: Paul Vogelzang
You may not know this, but back in the early 2000s the Treasury Department started a podcast. The person behind that effort was Paul Vogelzang.
But this conversation isn't about that podcast, but instead about the hugely successful Mommycast Paul helped create with his with wife Gretchen and her friend Paige Heninger. We talk about those early days and working with Adam Curry, the rise of the show and its success with advertisers like Proctor and Gamble, all the way to the end of the show and where Paul, Gretchen and Paige are up to now.
If you're interested in how the podcast market has evolved and some of the history, this is a must listen.
You can listen to this and more NextMarket podcasts at: www.technology.fm/nextmarketpodcast/ ❞
Effie Award Winner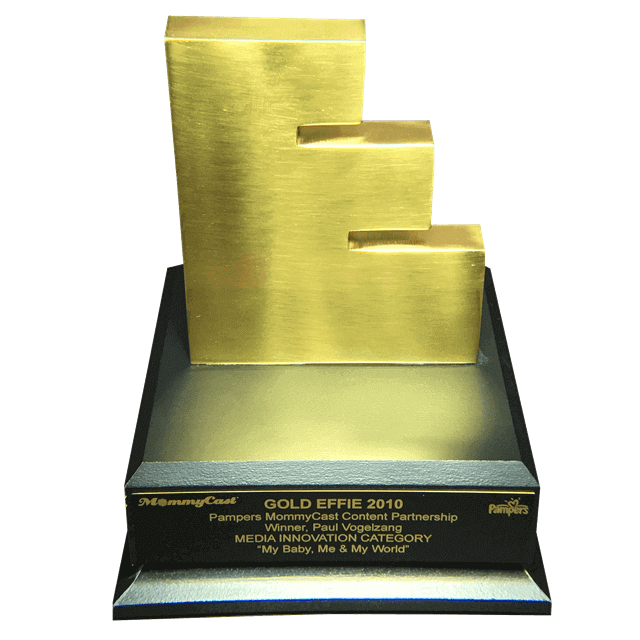 Winner: Paul Vogelzang for MommyCast
Pampers MommyCast Content Partnership
"My Baby, Me & My World"
MEDIA INNOVATION CATEGORY